Guides on How To Dress For A 1920s Inspired Party
/
ZAPAKA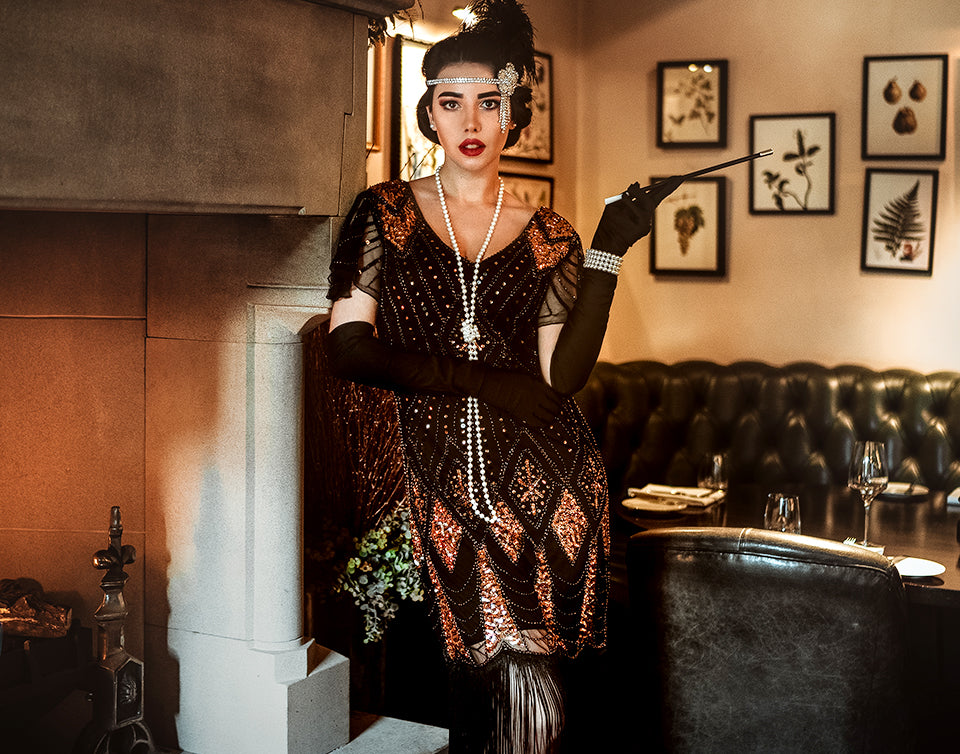 We are glad to see that people are slowly coming out of quarantine, which means we can start to have this or that party on the list. Themed parties centered on 1920s Great Gatsby costumes are very popular the recent years. Even though the roaring 20s happened a century ago, people are still captivated by this fabulous period in history. If you have a 1920s inspired party on the calendar, here's the blog on how to dress yourself for a 1920s inspired party and make a statement at the night.
1920S DRESSES
For dressing up for a 1920s themed party, it's all about geared on a chic, sophisticated 1920s dress.
(Shop the Dress: EM3040 Gold)
To make your dress look more authentic 1920 style, fix your eyes on dresses with elements like geometric patterns, bold color, Egyptian aesthetic. During the age of 1920s, women fashion dresses were great impacted by Art Deco design.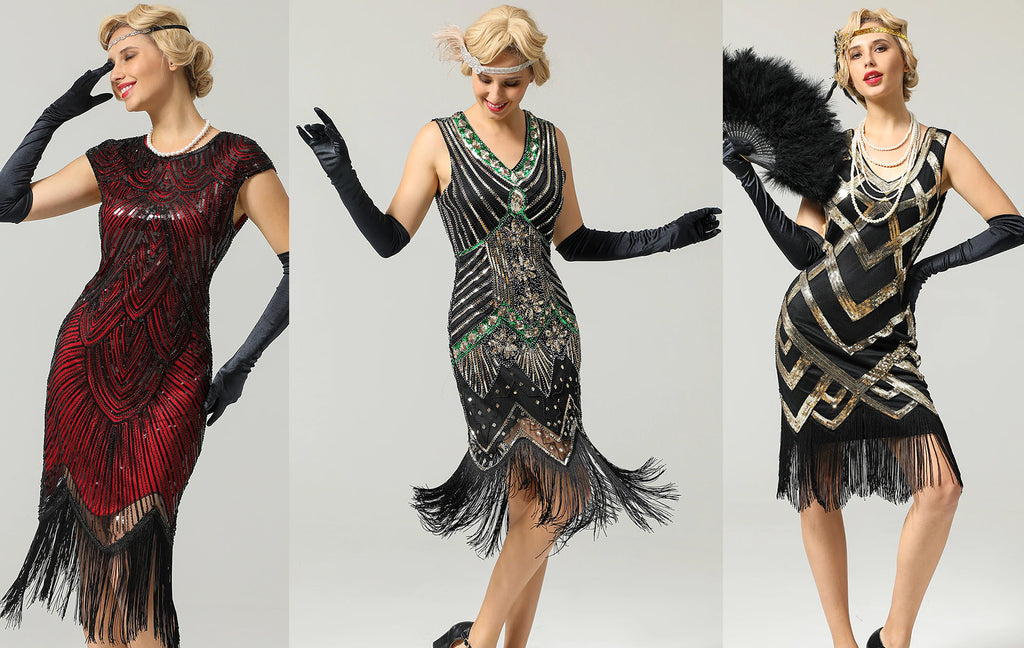 During the 20s decade, Women also wanted to cut loose and wear dresses that were stunning from every angle.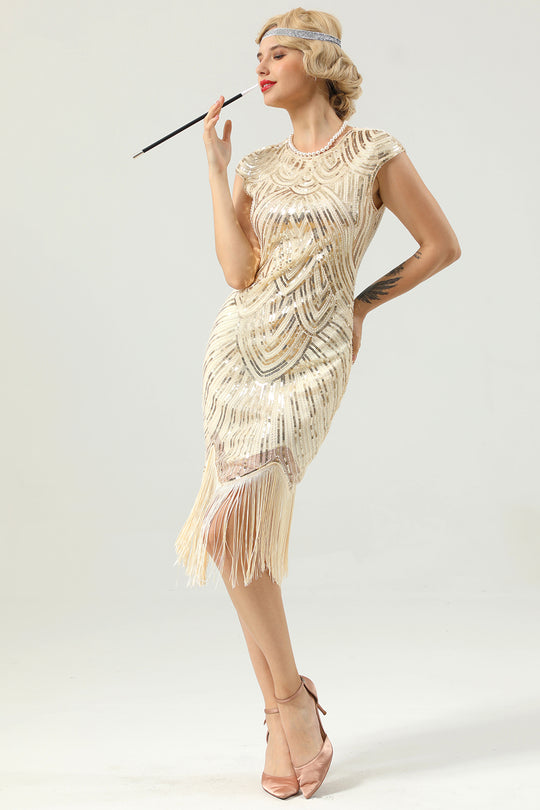 (Shop the Dress: ZPKAV005)
To look stylish and charming on the dance floor, dresses with short hemlines and glittering embellishments are their favourite.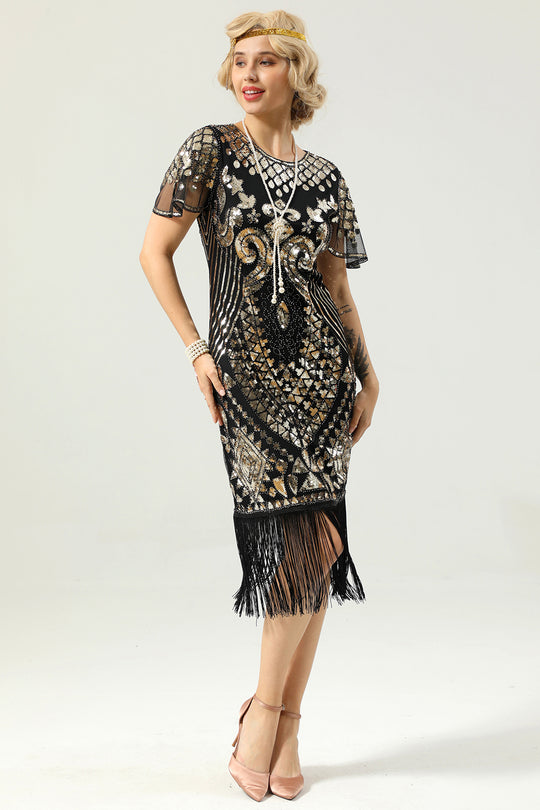 (Shop the Dress: ZPKAV121 BlackGolden)
Find a 1920s dress that both captures the elegance of the era and looks flattering on you can be an easy task. To recreate the 20s look, you can try on dresses in different lengths.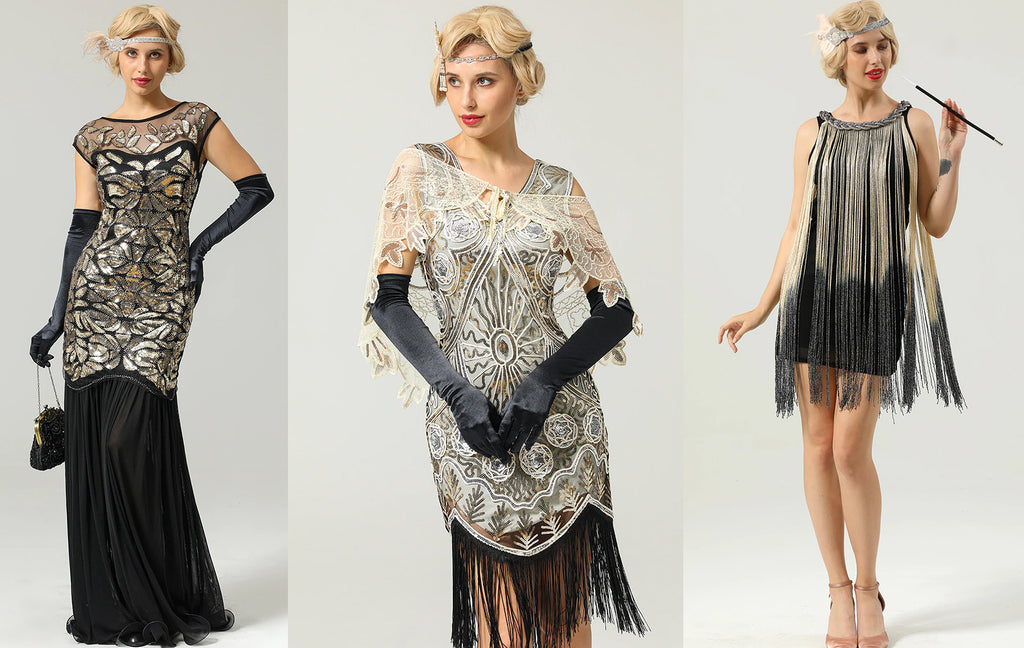 1920s dresses is all about relaxed silhouette and hemlines that extend just past the knee. Secure your eyes on soft fabric and ethereal overlays that can guarantee you a refined and enchanting look.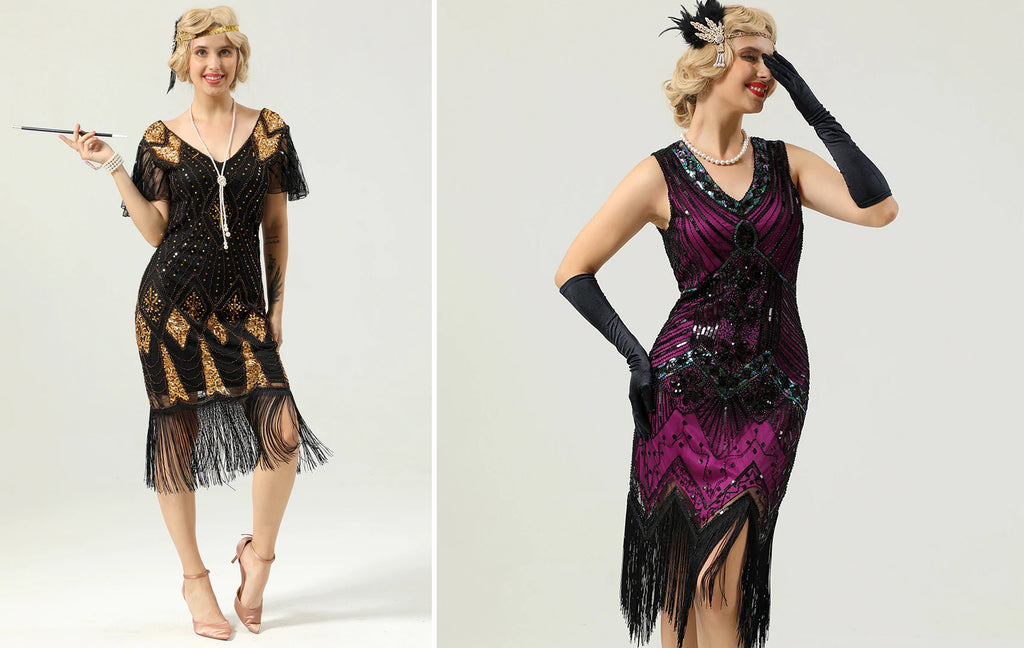 (Shop the Dress: ZPKAV108 Golden, ZPKAV113 Fuchisa)
1920S SHOES
To finish your 1920s look, proper heels play an important role. When it comes to shoes, ditch the sky-high stilettos and opt for something a little more sensible.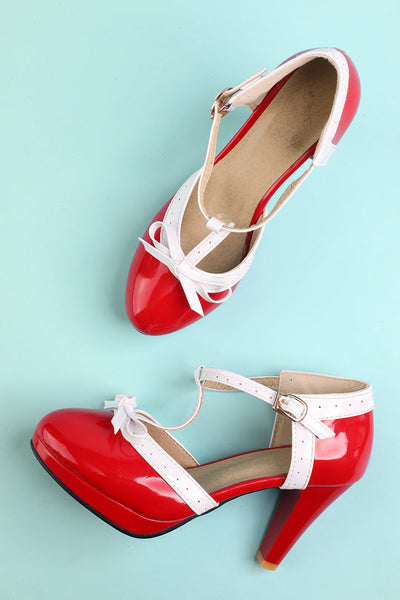 (Shop the Heels: ZPKCGS01022 Red)
Even though 1920s flappers were known for their over-the-top sense of style, they kept their footwear comfortable so that they could easily move and dance.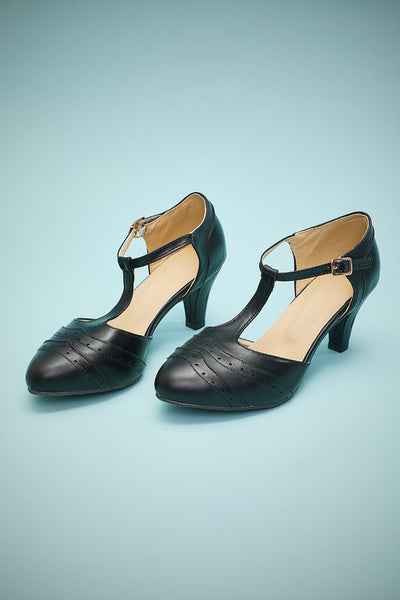 (Shop the Heels: shoes001) 
Look for a low, stacked heel that adds a little lift but keeps you comfortable all night long. T-strap heels were popular during the 1920s and remain a fabulous option in the present day.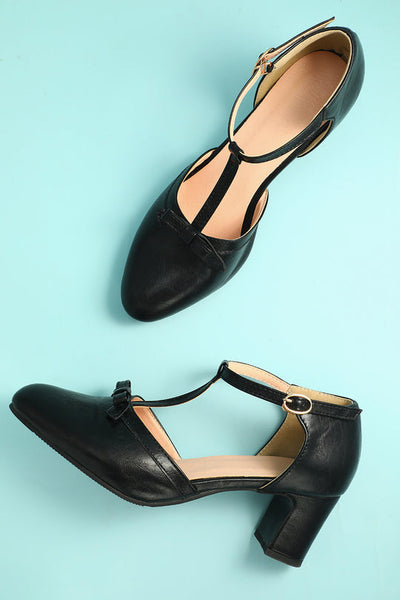 (Shop the Heels: shoes013)
If you are after a slightly more glam look, pick your heels with a lustrous metallic finish.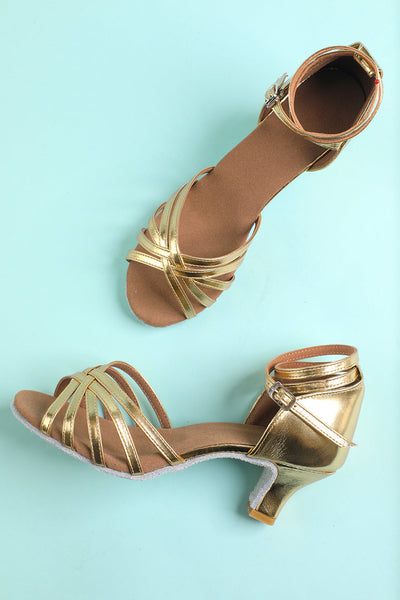 (Shop the Heels: ZPKCGS01019 Golden)
1920S ACCESSORIES
To achieve an authentic 1920s look, you would not like to miss 1920s accessories. During the 20s decade, for the first time, women could afford expensive-looking jewelry and they started getting obsessed with accessories. To enhance your overall party ensemble, don't forget accessories like earrings, necklaces and gloves.
 (Shop the Set: ZPKCGZL21187 Black One Size)
If you're looking for something slightly more authentic, you really should secure your eyes on pearl necklaces. Strands on pearls are an iconic choice if you want to look like traditional interpretation of a flapper.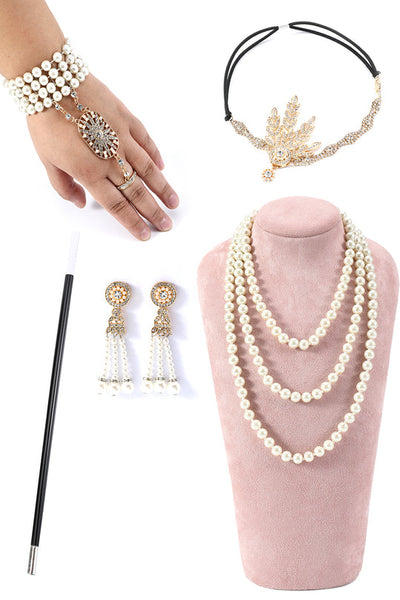 (Shop the Set: ZPKCGZL21185 Golden One Size)
Except for the jewelries, dainty chain-strapped handbags are also a must-have. To complete your look, pick a sequined handbag that perfectly matches your dress. Not only can it hold your money or lipstick during the party, it can perfect your Gatsby look.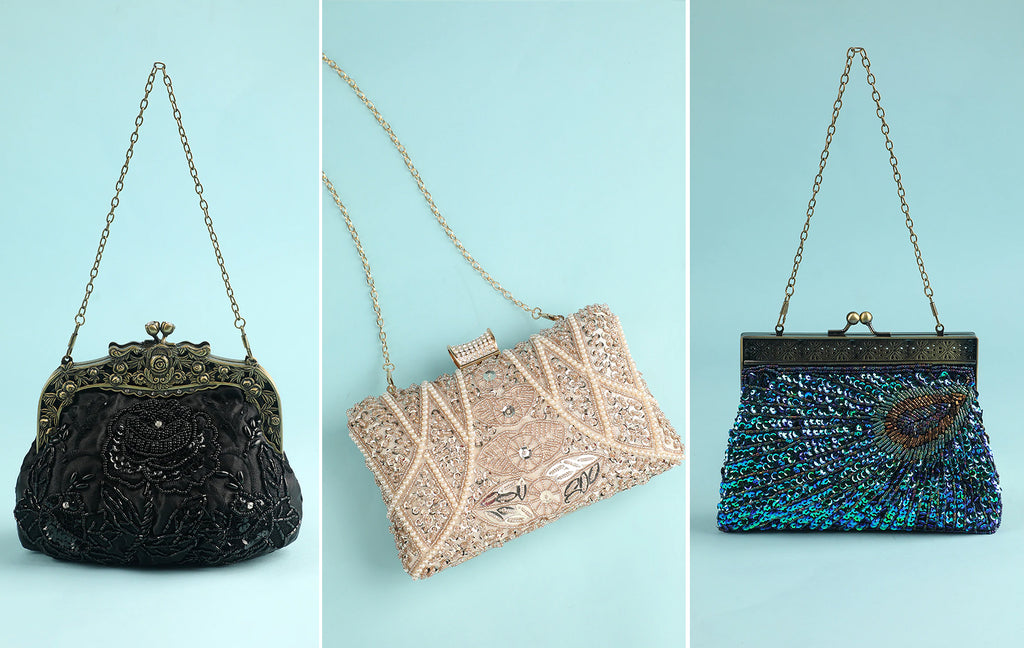 (Shop the Bag: ZPKCGB01005 Black One Size, ZPKCGB01006 Champagne One Size, ZPKCGB01012 Peacock Green One Size)
A shimmering headband will also put the perfect finishing touch on any 1920s inspired evening wear ensemble.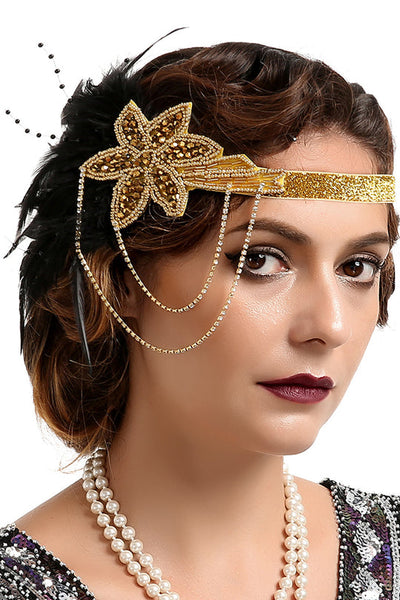 (Shop the Headband: ZPKAH003)
(Shop the Headband: ZPKAH007, ZPKAH010, ZPKAH016 )
HAIR & MAKEUP of 1920s
During the twenties, women opted for very short haircuts due to the prevalent social and cultural rebellion. The most popular hairstyles were the sleek bob, shingle cut, eton crop, cropped curls, and Marcel and Finger Waves. But if you're not willing to chop off your locks, there are still plenty of ways to style your hair like a fabulous 1920s style icon. Wearing wigs can be one of your choice. Or simply gathering your hair in a low ponytail and pinning the ends under will also create a chic faux-bob effect.
When it comes to 1920s makeup, there's really no need to go overboard. Women in that era were used to use the basics to elevate their natural beauty. To be a modern flapper, you can simply wear a few coats of mascara with dramatic black eyeliner, pairing with a dark red lip and a touch of blush. It is just so easy to capture the spirit of 1920s makeup.